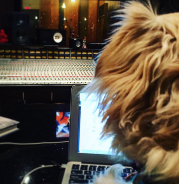 Artist Development
This is the most comprehensive service I offer. I help artists figure out what they have to say: we work on songs, image, recordings, social media presence, stage performance and how to survive the challenges of success.

I've seen it all in my career: it's my goal to help young artists develop the skills to succeed on their own terms.
A&R Consulting
This relationship can be different for each artist, depending on your needs and resources.

I can work with you on mixes for a recorded album, critique a finished production and help figure out a marketing plan or listen to demos and help you find a producer for your project. I'm flexible. If you're good, we'll figure out a plan.
Producer Services
Pre-production is key. Once you're ready, I have close relationships with studios and engineers in Atlanta, Athens, Austin, Los Angeles and Nashville.

I've worked in London, Sheffield, New York City, Dallas and Vancouver, so I've had experience in a wide variety of recording situations. If you've got the budget, a full-blown album session is always a blast.